Demoscene News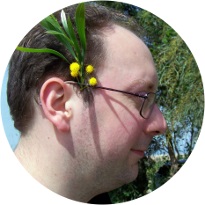 This is an overview of some of the recent activities in the demoscene, an international computer arts community. A list of recently held demoparties and such ones that will be held in the near future can be found at the end of the article.
Written by Claus Volko
Vienna, Austria, Europe
Contact: cdvolko (at) gmail (dot) com
Homepage: www.cdvolko.net
Demo Effect Write-Ups
The demogroup Titan published a write-up about the effects in their Sega Mega Drive demo "Overdrive 2" (link). The demogroup Ctrl-Alt-Test did something similar about their 64k intro "Immersion" (link).
Mystery Demoscene Theater 9000
ps of enough records is still regularly hosting the "Mystery Demoscene Theater 9000", a livestream involving himself and a couple of other sceners showing and discussing demos, in English. The archive of season two can be found at YouTube (link).
Vandalism News
The latest issue of the C64 diskmag Vandalism News is #67, from November 2017. It can be found in the C64 Scene Database (link). Use a good emulator to view it on a Windows PC.
Sega Mega Drive
A recent thread at pouet.net contains plenty of links to useful resources about Sega Mega Drive software development (link).
Music made with Raspberry Pi 2
The scener Yerz created an EP album entitled "RPi Zwei", which is composed of music made with the Raspberry Pi 2 (link).
Best Scene Demos from 2017
The website Bitfellas, in collaboration with 4sceners.de, has published an overview of the best scene demos from 2017 (link).
Interview with a Commodore Manager
At YouTube, an interview with David Pleasance, a general manager of Commodore International, can be found (link). It may be especially interesting for those of you who owned a C64 or an Amiga.
---
Demoparty Calendar
February 2018
Gerp (Sweden)
Amiparty (Poland)
Demobit (Slovakia)
BCC Party (Germany)
March 2018
Instanssi (Finland)
Forever (Slovakia)
Revision (Germany)
April 2018
Multimatograf (Russia)
May 2018
Outline (Netherlands)
Birdie (Sweden)
QBparty (Hungary)
Simulaatio (Finland)
Decrunch (Poland)
June 2018
Switchon (Australia)
Silesia (Poland)
August 2018
Evoke (Germany)
---
Claus Volko